The automated telephone answering system is part of a range of virtual office services provided by Office Answers. Our services also include a live virtual receptionist service, mail forwarding, and a full virtual office.
The reviews and comments are from customers using the full range of our services and hope it conveys the helpful and approachable we have with all our customers.


Review added by: Burnt Orange Designs
November 28th, 2012 10:21 am
I find Office Answers a valuable service and am pleased I have been able to extend your services to our new company.


Review added by: CF Education
July 12th, 2012 5:30 pm
Having used Office Answers for five years for both phone answering and fax-to-email services, I can say without hesitation that their service has been flawless throughout. Not a single customer in all that time has shown the slightest indication that calls were actually being taken many miles from our office. As a small business themselves, one gained the distinct impression that Clare and her colleagues really understood how important that first contact with a customer is. I would very highly recommend their services.

Review added by: Malcom - Mix UK
February 15th, 2012 9:20 am
I have used Office Answers for 5 years now and have nothing but praise for their service and efficiency. So many people praise me for the friendly and professional attitude of 'my' receptionist that I feel like claiming the credit! Instead, I tell them about OA and advise them to use their services.

Review added by: CDB Consulting
July 26th, 2011 3:28 pm
May I thank you for your service which has helped us get some leads which we would have missed without you. We would not hesitate in recommending Office Answers and intend to continue with your service as our company grows.

Review added by: SAP Designs
November 1st, 2010 at 5:49 pm
I used the telephone answering service from Office Answers for six months and the support they provided was great. Having calls answered by the receptionist team definitely helped me grow my business to the point where we are moving into a new office. I would happily recommend them to anyone.

Review added by: Aylsham Computer Services
June 17th, 2010 at 1:34 pm
Running a computer service business generates a lot of support calls which can tie up telephone lines and personnel. Office Answers have bridged this issue and subsequently taken calls that have led to further business that we would otherwise have missed. This service has been very beneficial not only in terms of customer satisfaction but also financially.

Review added by: NSL
April 21st, 2010 at 12:17 pm
Office Answers are great to work with. They always follow up and get the job done, usually ahead of my expected time scales. I have no hesitation in recommending them.

Review added by: Toye Graphics Ltd
January 20th, 2010 at 4:30 pm
I've had glowing reviews from my customers about the professionalism of the receptionists so thanks for a great service.
Eight years and counting...
Office Answers Ltd was established in 2004 by Clare and Ian Marshall to provide telephone answering and virtual office services to small businesses.
Back then we only had 20 customers and gave each one our personal attention.
It's now 2015 and we will give you the same personal attention, leaving you thinking we still only have 20 customers, even though we have grown quite a fair bit over the years.
Latest customer reviews
Review added by:
Gurka Cleaning

Jan 8th, 2015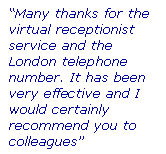 Reviews on Facebook
We also have some comments from customers on our Facebook page, like the example below.

Visit our Facebook page: www.facebook.com/officeanswers